Joint Tec™ – The development of a world class brush in pavement jointing compound for paving slabs, flags, natural stones, cobbles and setts.
Joint Tec™ is available in 5 colours
Golden Granite
Granite Grey
Basalt Grey
Buff Sand
Pitch Black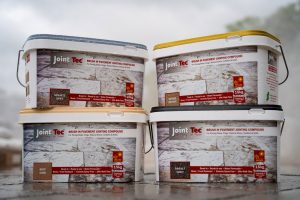 Click here for more information on Joint Tec™
Whether you've laid grey or yellow granite, one of the various shades of sandstone, limestone, slate, yorkstone or a decorative concrete pavement, we are confident one of our colours will compliment it perfectly.
Joint Tec™ comes in 15kg buckets, is ready to use and is a very quick effective and aesthetically pleasing way to fill joints between paving.